kwalgate
biography
I live eat drink and sleep music. Drums/Percussion is my primary instrument. I currently jam with a great bunch of guys in LA. The band name is FRATER. You can find additional info at:
www.fraterband.com
I'm just getting into the home recording thang. Currently using cubase. It really rocks.
Check out the songs.
Love each other.
Kevin.
6

October 12th, 2007 + 3:10 PM
·

kwalgate
Well, since you gentlemen have been so kind to me in the past, (and have such a sick addiction to our arena style rock-n-roll), I just had to whet your appetite once again. I saved my favorite for last...so here you go...another track from HASTINGS...Break Me.

Recorded same time as "Million Dollars" and "Be My Own Man".

Sorry I can't make the BAND AMP NA get together in Niagara-On-The-Lake. I grew up in Buffalo NY, so I know that area well...beautiful. Have a great time...and remember, don't do anything I wouldn't do. HAHAHAHAHA
9

May 16th, 2007 + 12:05 AM
·

kwalgate
Haven't written or uploaded new music here in awhile. Anyway, hope everyone is doing fine in this lust month of May. Here is a new original song from my current band in Los Angeles, named FRATER. We recorded this "live" at a recent "showcase" performance in Yucaipa, CA. Hope you enjoy it.

Later Slater
5

December 12th, 2006 + 1:12 AM
·

kwalgate
Here we are again. Here is the fourth song off the original HASTINGS recordings in Buffalo, NY. Again, I played drums, and worked out the arrangement on this track. This is a typical example of what living in a dreary place like Buffalo (1998-2002) can do to a man. The lousy weather and stagnant working conditions really come though in the vibe of this song.

Enjoy.
3

December 3rd, 2006 + 3:12 PM
·

kwalgate
Here is my first attempt at using my new Cubase recording software. i've always wanted to make a full-on complete percussion album. let me know what you think.

i used:

12" djembe
14" djembe
tambourine
rain stick
shaker egg
22" zildjian ping ride with 6 rivots for "sizzle" effect.

6 tracks, knocked out in 2 hours.

enjoy
6

December 2nd, 2006 + 3:12 PM
·

kwalgate
Ok, I recently sent you guys two of the more hard driving songs that I have from a band that I recorded with in NY for several years. Unfortunately, I had to relocate to LA and find some new work.

Now it's time to send you one of our great power ballads. Listen to the vox. My singer wrote these lyrics after having a dream about the subject matter. It's the kind of song that really gets the hair to stand up on the back of your neck !!! I hope you enjoy.

Recorded: November 2005, Buffalo, Ny Goo Goo Dolls/Chameleon West Studios.

I play drums on this track. Singer: Tom Hastings.
Alias:
kwalgate
Status: Offline
Threads:
7
Posts:
25
Songs:
7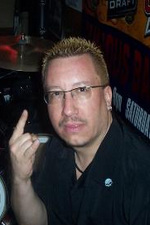 Joined: November 19th, 2006
Last login: July 05th, 2009
My Messengers
| | |
| --- | --- |
| AIM: | n/a |
| ICQ: | n/a |
| Skype: | n/a |